Welcome to Tango® Shatterproof Drinkware®
Our premium reusable plastic drinkware is utilized on cruise lines, at beach resorts, hotels, restaurants and other fine establishments where quality, style and affordability is required. The Tango Shatterproof Drinkware product line is made in the U.S.A. We are the exclusive distributor for North and South America.
Our Features Include:
Shatterproof Polycarbonate
Break resistant SAN
Dishwasher safe – up to 2500 cycles
Superior insulation
Glass-like clarity
Custom decorating
Our Polycarbonate resin is California prop. 65 certified
We also specialize in custom molding
Please navigate our web-site to learn more about us. Or if you have any questions, please contact us. Thank you for visiting Tango Shatterproof Drinkware. We hope to hear from you soon.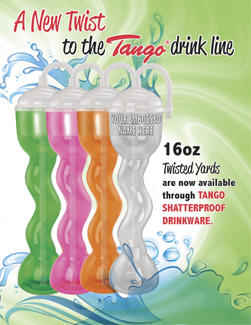 Available in Clear, Magenta, Mint Green and Fluorescent Orange 52 cups per case and each cup has a clear dome lid with a straw. We can print your name or logo in black ink with a 12 case minimum.
Custom embossing with an order of 2500 pcs. Freight is FOB, Warren PA
Call for more information:
(888) 898-2646 x 3486